I never used to like duck and not just because I was a vegetarian for most of my teenage years. I always thought it was a bit of a fatty meat. Roll forward a few years and duck is a real treat, the breast served pink, the leg as duck confit or this gorgeous pasta dish from Jamie Oliver. It's not at all difficult but does take a very long time so it's best to give it a go when you need to be at home for the day anyway or even roast the duck the day before. It's great to impress friends in an understated way. I'm still staying at my parents and on Friday had this for dinner.
The first time I make a recipe I always try to follow it exactly, but as I have made this a few times I have tweaked Jamie's recipe a bit so I hope he doesn't mind!
You start by slow roasting the duck. For four people I only use half a duck but use the same amount of sauce as Jamie recommends. Mainly due to the cost of duck and that I think there is still plenty of meat for four people. If you were using wild duck you'd need more, probably a whole one.
Next, it's time to make a yummy tomato sauce with pancetta and cook it for about an hour until it is quite thick and all the flavours have melded together. Jamie then says to add the shredded duck and cook for half an hour but I think it needs more like an hour. Ten minutes before the end add sultanas and pine nuts. They aren't critical but add a good extra dimension.
Once the sauce is nearly cooked it's time to put the pasta on. Again I use much less than Jamie says, 300g for 4 people, which is more than enough served with a bit of salad. Cook the pasta until it is al dente, drain (retaining some of the cooking water) and stir the pasta into the sauce. Finish the dish by taking it off the heat and stirring in the orange zest (careful to get just the orange outer part of the skin not the white pith as it's very bitter) and juice (I only use half of the orange and still think it tastes very orangey, but taste it and add a whole one if you think you need it), chopped parsley, a good slosh of vinegar, butter and Parmesan. Give it a good stir adding a little of the pasta cooking sauce if it's a bit thick. Serve with more grated parmesan on the top and a green salad.
Here are the photos of the finished dish.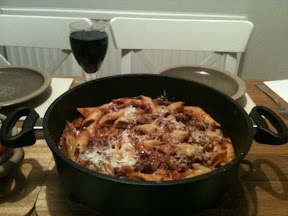 Recipe for Gorgeous slow-cooked duck pasta from Cook with Jamie
1 duck (or leftover roast duck)
olive oil
sea salt
freshly ground pepper
1 orange
1 lb pasta (rigatoni or occhi di lupo work well)
2 knobs of butter
1 large handful of freshly grated Parmesan cheese, plus extra for serving
a small bunch of flat leaf parsley, finely chopped
zest and juice of 1 orange
red wine vinegar
For the sauce:
olive oil
6 slices of pancetta, finely diced
1 red onion, peeled and finely diced
2 carrots, peeled and finely diced
2 sticks of celery, trimmed and finely diced
6 springs of fresh rosemary, leaves picked and finely chopped
1 stick of cinnamon
4 cloves of garlic, peeled and finely sliced
2x14 oz cans of good quality plum tomatoes
1/2 a 750 ml bottle of fruity red wine (Valpolicella of Barbera works well)
chicken stock
a handful of raisins
a large handful of pinenuts
Preheat the oven 350ºF/180C
Stuff a duck with a quartered orange; rub the outside with olive oil, salt, and pepper; and roast, breast-side down in a roasting pan, for two hours, turning every 30 minutes. Let it cool, and pull off all the meat.
Pour some olive oil into a large pot. Fry the diced pancetta until golden. Add red onion, carrots, celery, rosemary, cinnamon stick, and sliced garlic cloves. Cook slowly until it all softens up (about 10 minutes). Add the plum tomatoes and red wine. Let simmer for about an hour. Shred the duck meat and add it to the sauce. Cook for another half hour, adding water or chicken stock if it becomes dry. Remove the cinnamon stick, and add a handful each pine nuts and golden raisins. Continue to simmer while the pasta cooks.
Cook the pasta in plenty of boiling, salted water. Drain (preserving some of the cooking water).
Toss the pasta into the sauce. Remove from the heat and stir in a knob of butter, a handful of grated Parmesan, the zest and juice of 1 orange, chopped parsley, and a splash of red wine vinegar.
Loosen the sauce with the reserved cooking water if necessary. Check seasonings. Served with parmesan.